Streamlining Airport Operations with AI
The COVID-19 pandemic has had a dramatic effect on the airline industry. The International Air Transport Association reported that the industry suffered an US$84 billion loss in revenue for 2020. Across the globe airports are experiencing an unprecedented decline in passenger numbers as governments restrict travel and impose strict quarantine regulations.
The crippling financial impact of the crisis will be felt in the industry for years to come even as passengers gradually return. Leaders in the sector can plan for the recovery by increasing efficiency and productivity in airports. And AI is playing a part in this return to growth. Increasingly computer based AI models are being deployed to help passengers, increase security, and reduce workload for airport staff.
In order for these efforts to be successful and widely adopted innovators need the best image and video training data available. This blog will address specific areas of innovation in AI supported airport operations and reveal how experienced annotation providers, like Keymakr, are creating datasets that meet the needs of the industry.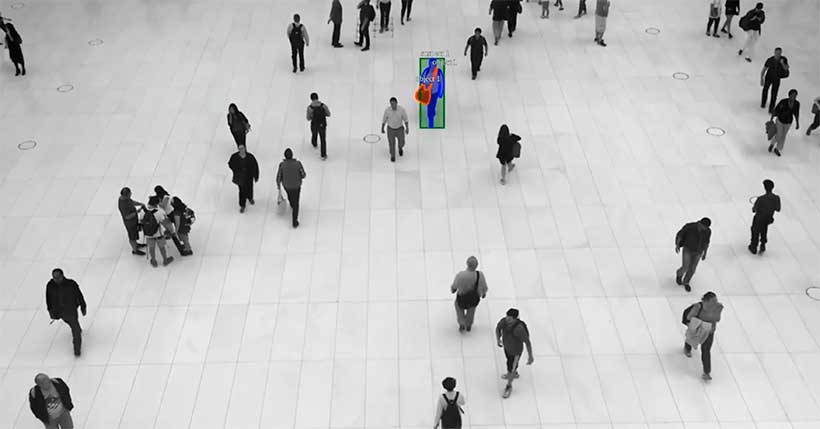 Speeding up boarding with biometric identification
Contactless airport procedures are more important than ever. By limiting the amount of ticket and passport transactions that occur moving through the airport it is possible to reduce the risk of coronavirus transmission. Biometric boarding means AI powered cameras identifying individuals by reference to key facial features, and other metrics such as height.
In 2021 Delta became the first Airline to introduce digital identity tests for domestic travellers in the USA. This system allows passengers to experience touch-less movement through the airport, from their arrival to their gate. The system links the passengers passport to a TSA pre check and is powered by AI biometric identification cameras.
By removing obstacles for passengers biometric identification systems are improving customer experience and reducing staffing needs as airports return to full operations.
Key point annotation is central to all biometric identification AI models. Annotators construct training datasets by locating key facial features in many thousands of images. Diverse training data is essential for this technology to function effectively. Images must include features such as beards, glasses, and hijabs in order to fully reflect the real world. Annotation services are often best placed to collect varied data due to accumulated experience and access to data creation facilities.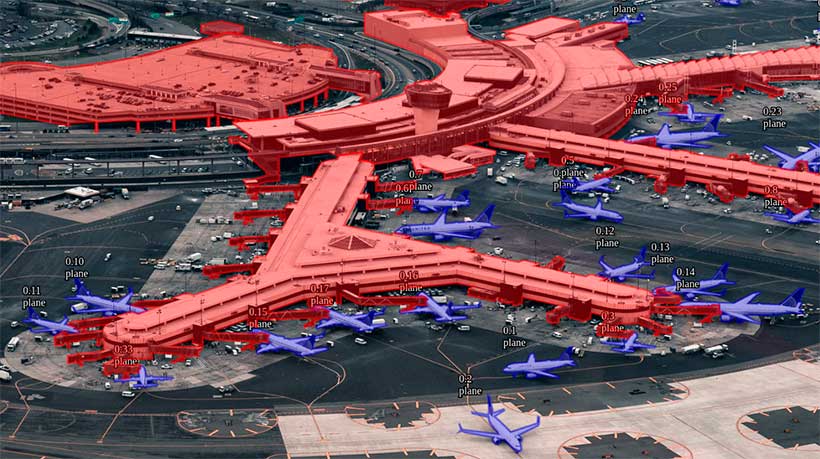 Ensuring security with AI
Security remains the premier concern for airports. Restoring passenger confidence means guaranteeing a safe environment for travel. AI powered, integrated security systems are in development that have the capacity to identify risks in real time and inform security staff. Object recognition technology enables cameras to spot weapons or suspicious objects in complex, chaotic airports contexts.
AI security systems are also able to identify unusual or threatening behaviour and then track that individual across multiple frames of security footage. This acts as a force multiplier for airport security staff, allowing far more camera footage to be actively monitored at once. Identifying behaviour that indicates sickness is another potential application of this technology. This could help in the fight against COVID-19 at travel hubs.
Smart annotation is essential for the AI based airport security systems to reach their full potential. Video annotation is time consuming and a significant challenge for AI companies. Outsourcing this work to experienced providers can help researchers to focus on the core mission of their project. Managed teams of annotators are capable of producing high quality video training datasets, featuring bounding box annotation for object detection and skeletal annotation for movement analysis applications.
Safeguarding the future of aviation with AI
Industry leaders and AI companies are responding to the pressures of the current moment with innovative technologies that promise to make the airport experience safer and more reliable. Keymakr collaborates with cutting AI projects, supporting their efforts with pixel perfect annotation and bespoke datasets.